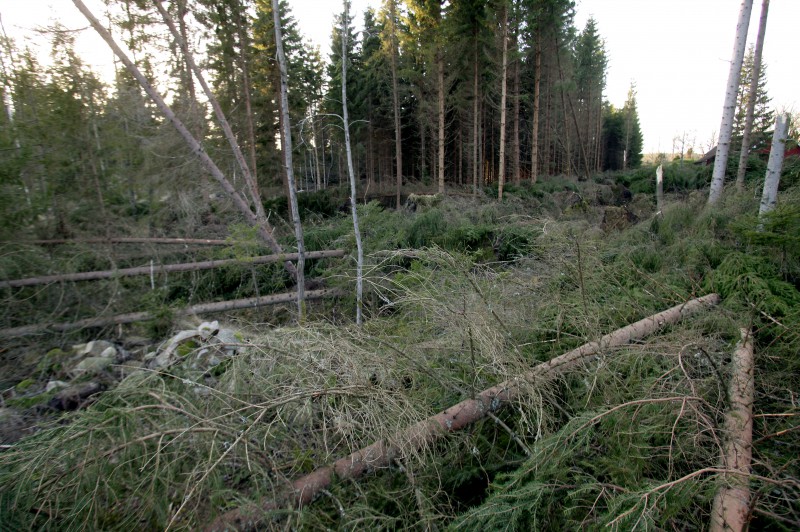 Storm puts focus on security
A natural disaster put the spotlight on the vulnerability of Swedish society. When the electricity stops working, so does virtually everything else. It forced Vattenfall and other electricity grid operators to significantly increase the rate of investment to make networks more secure in all weathers.
On Saturday evening, 8 January 2005, Sweden was hit by storm Gudrun – the worst natural disaster in Sweden ever. On Hanö off the coast of Blekinge the storm reached hurricane strength, with an average wind force of 33 metres per second. On the island of Gotland, gusts of 40 metres per second were recorded.
In the space of a few hours, the wind blew down a whole year's worth of national tree felling - 200 million trees, as well as power lines, poles and power stations. Seven people were killed. Roads were blocked by fallen trees, and the railways were at a standstill. Sturup and Kastrup airports were closed, as were the Öresund, Älvsborg and Uddevalla bridges. Ringhals and Barsebäck nuclear power plants had to halt production due to grid failures, combined with large amounts of salt coming in from the sea, making the switchgear unusable. Damage after the storm was estimated at SEK 10 billion.
When the storm abated 780,000 subscribers were left without electricity. In total, 30,000 kilometres of power lines were damaged. Of these, around 9 per cent required complete replacement. The underground network remained undamaged. Power line corridors for local networks were, as a rule, not tree-safe. The total estimated number of interruption days was 2.3 million. The grid companies' costs were estimated at SEK 2.5 billion, including disruption compensation.
According to the Swedish Energy Agency, the storm showed that Sweden and the Swedish economy had its weak points. For a few days, society ceased to function when the electricity disappeared. When electricity was introduced at the turn of the last century, there was probably nobody who could imagine how dependent society would become on electricity.
Some 180,000 Vattenfall subscribers were left without power on the morning of the 9th of January. However, at 7 PM power was restored to at least half of them. Two days later, about 10 percent, or 18,000 subscribers, were still left without power. On January 21st all of them had electricity again.
As the storm raged, Vattenfall had up to 1 600 people working with the power disruptions. 1 150 of these were working in the field, while 450 were working indoors, at power stations and other facilities. 15 helicopers, 20 tracked vehicles and 20 harvesters were used to locate and fix problems.
One problem during this hectic period was communication. During the first few days, Vattenfall received over 40,000 telephone calls on around 30 lines.
Information was also communicated in more unusual ways. One rural resident, instead of waiting on hold on the phone, set up a huge sign at the road side that read 'Vattenfall change the fuse at the substation'. One of Vattenfall's vehicles drove past shortly after and changed the fuse.
Weatherproofing through burial
Vattenfall had decided one year earlier to invest SEK 10 billion over a five-year period in insulating and weatherproofing the most exposed parts of its electricity grid. Burying the lines now became a much more common option. Another effect of this work was that Vattenfall gained better control over pinpointing weak links. The result was that they could gradually give customers a much improved quality of delivery.
During the decade that followed the storm, Vattenfall invested SEK 17 billion to "weatherproof" the electricity grid. A total of 17 000 kilometers of lines were put underground or secured by new isolated air lines. Continued investments for the electricity grid during the 2010s are estimated at SEK 3–4 billions a year.
Smart grids
Smart grids are part of the power companies' continued work to support society. Existing grids will be adjusted in order to accomodate more renewable energy production, such as wind power and solar energy. The electricity grids must also - faster and automatically - identify and remediate errors and disorders caused by storms and heavy snowfalls. Finally, smart electricity grids should also support the growing use of, for instance, domestic heat pumps and electric cars.