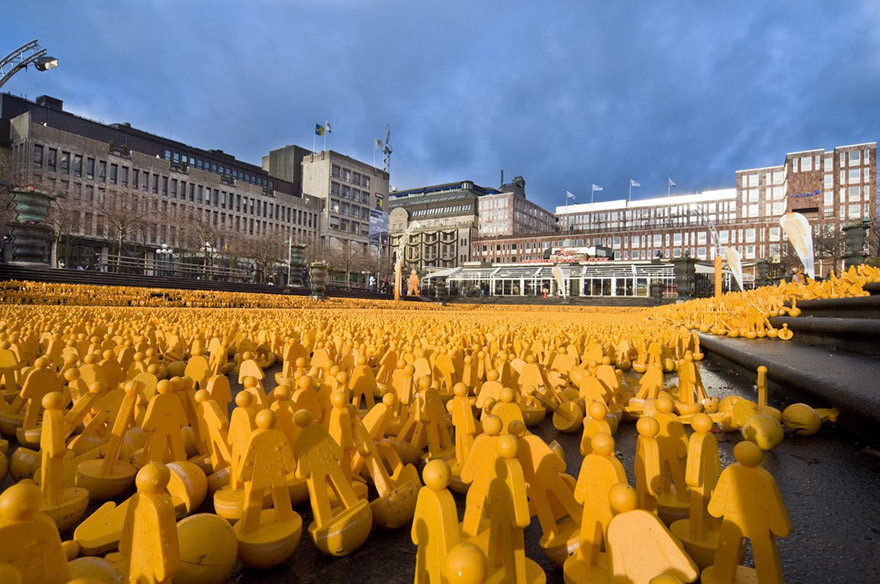 The 2000s –marketing in adverse conditions
The successful 'Two holes in the wall' campaign in the mid-1990s marketed a 100 per cent Swedish company. The acquisitions in Poland and Germany in the early-2000s transformed Vattenfall into a European player, labelled by the press as a 'European energy giant'. An 'energy giant' with a major environmental debt. Vattenfall's image, its brand, was seriously tarnished.
In the early 2000's, Half of Vattenfall's electricity generation suddenly consisted of fossil-based power, and a substantial proportion derived from lignite. Vattenfall's carbon dioxide emissions from its plants were larger than Sweden's total emissions of greenhouse gases. The climate issue was where the company's credibility and accountability came to be measured.
A large proportion of the marketing during the 2000s was tasked at creating a brand that was perceived as trustworthy and accountable, despite the new conditions.
Yellow men – Vattenfall's climate manifesto
Vattenfall wanted to demonstrate in campaigns such as 'Making electricity clean', 'Curbing Climate Change', 'One tonne future' and 'Vattenfall Climate Manifesto' (the 'yellow men'- campaign, see picture), that it wasn't just taking responsibility for its own operations, but was also at the cutting edge and a frontrunner in the development towards a sustainable energy system. The flagship was the pilot plant for carbon capture and storage (CCS) at the Schwartze Pumpe lignite plant in eastern Germany. It showed that a technological solution was within reach to make power generation from lignite carbon-free and that Vattenfall was one of the leading players in making it happen.
The collaboration with Volvo surrounding the world's first mass-produced electric diesel hybrid, the Volvo V60 Plug-In Hybrid, was also highlighted in marketing channels.
Prior to the EU's climate summit in the Polish city of Poznan in December 2008, Vattenfall placed large advertisements in Swedish and international media encouraging the general public in Sweden, Germany and Poland to sign a manifesto to combat climate change. A small yellow figure in environmentally-friendly material was manufactured for each signature. 100,000 men (=100,000 signatures) were taken out on a tour to Stockholm, Brussels, Hamburg, Berlin and Warsaw.
Vattenfall's campaigns throughout Europe in 2008 and 2009 represented Vattenfall as a 'green', environmentally-friendly company, but they were severely criticised and accused of double standards – so-called 'greenwashing'. Matters were not improved by the fact that the trials with CCS technology had to be abandoned in Germany due to lack of political support based on the public's concerns about storing carbon dioxide deep below the ground.
By promoting itself as the player which was pushing hardest to find the solution to the climate issue, Vattenfall was very far from the image that the public had of the company as a major lignite producer. This discrepancy contributed to diminishing trust in the company. The strategy was therefore changed from communicating a long-term climate vision up to 2050 to reporting on what Vattenfall was doing in the here and now.
The Lindell family move into a climate-smart house – One tonne life
In the One Tonne Life project which was implemented in 2009-2011, the initiators A-hus, Vattenfall and Volvo joined forces with collaborative partners Siemens and ICA to create the conditions for a climate-smart household. The challenge in the project was to see whether it was possible to live an ordinary life, though with an emissions level of one tonne of carbon dioxide per person per year. According to climate researchers, one tonne of carbon dioxide per person per year represents a sustainable level to curb climate change.
An ordinary family with two children took part as 'test pilots'. The Lindell family moved into a newly built, detached, wooden, climate-smart house in Hässelby in western Stockholm equipped with solar cells and smart energy solutions, as well as energy-efficient domestic appliances. The family used an electric-powered car charged with renewable energy. The family lived in the house for six months and during that time had to see how much they were able to reduce their carbon dioxide emissions through new technology and changed behaviour. In total, the family succeeded in cutting their carbon footprint by 75 per cent without fundamentally changing their everyday lives. Read more about the results from the One Tonne Life project.
Fifty years earlier, Vattenfall had conducted a similar project when the Garnow family moved into an 'ultra-electrified single-family house' in Trollhättan. Even then, Vattenfall wanted to demonstrate how 'electricity as a product' was going to be a part of domestic and everyday life in the future.
Electricity no longer sells itself – multiple campaigns are under way
The motto 'electricity sells itself' no longer applied after deregulation. Different types of campaigns were launched in different channels and with different target groups. However, something which has almost 'sold itself' is Vattenfall's collaboration with the Swedish national skiing team. Vattenfall has closely collaborated since 1995 with one of the national teams which is closest to Swedish hearts.
It was also important to get the Vattenfall brand into new markets when old brands were scrapped. For example, the BEWAG brand in Berlin and the HEW brand in Hamburg, both of which were considerably older than Vattenfall, disappeared. The residents of Berlin and Hamburg had to learn to pronounce the word Vattenfall. Careful market research had been conducted beforehand in order to ensure that the 'Vattenfall' name produced the right associations and was not confusing in an international environment.
Related videos
2009: Sign up for the climate! Vattenfall Climate Manifesto
2011: Energy for winter sports
2015: Let's do it together - Moving nicely
2016: Now everybody can choose solar power