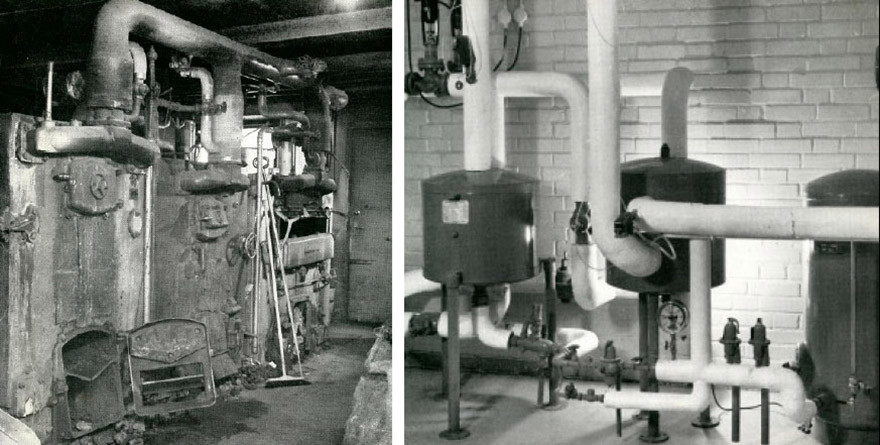 The history of district heating
The argument for district heating is as strong today as it was in the 1960s. Good for the environment, flexible and adaptable, convenient and with high security of supply.
Centrally produced district heating has been in existence for almost 150 years, with systems tested as far back as the late 19th century in the German city of Hamburg and in the USA. For example, the steam system which currently supplies Manhattan in New York was put into operation as early as 1882.
The first municipal district heating plant in Sweden was set up in Karlstad in 1948.
Within Vattenfall, district heating was initially perceived as a competitor to electric heating, which was then regarded as the heating method of the future. However, there was a debate at the start of the 1960s on more 'collective heating solutions', and the major swing in attitude followed in the wake of the oil crisis of 1973 when oil prices went through the roof.
Vattenfall entered the district heating business through Ågestaverket and Uppsala Industriverk. Supplying district heating from the nuclear power plant in Forsmark to Stockholm was also a project idea that was thoroughly investigated. Calculations showed that one reactor would ensure the capital's total heat requirements, but for various reasons, including the fact that it would entail a reduction in electricity generation, the project was never implemented.
Gotland-based GEAB was established in 1978 with the decision taken shortly thereafter to develop district heating in Visby. Today district heating is also available in Slite, Hemse and Klintehamn. In the 1990s, district heating/combined heat and power plants were acquired in for instance Nyköping and Jordbro.
Vattenfall also runs district heating operations in Askersund, Gustavsberg, Knivsta, Motala, Storvreta, Vänersborg and other locations.
Vattenfall purchased Uppsala Energi in 2000, having had up to this point financial interests in the city and collaborations with Uppsala municipality for many years.
The example of Uppsala – from refuse tip to ultramodern plant
In the mid-1950s, just about all commercial properties and homes in Uppsala were heated by boilers which were fired with coal or coke, and later oil (see the image above). Purification of the emissions was non-existent, and the quality of the air in the city suffered accordingly.
Boländerna, the area where the district heating plant is still located today, was originally a refuse tip. The first waste boiler was built in the late-1950s to deal with the refuse. District heating was introduced in Uppsala in 1961, but it took time and energy to convince sceptical businesses and residents. The critics pointed out the system's vulnerability and people were worried about increased prices.
It became more accepted over time and the customers flocked in. As new urban districts were built, what started out as temporary heating plants were gradually replaced by a system of district heating pipes. Industrial plants, large enterprises, shops and housing associations in the vicinity constituted the customer base for some time, with private residences such as detached and one-family houses coming much later.
The architecturally attractive Kvarngärdesverket plant was completed in 1962, solely to produce district heating for the newly built housing area.
Supply of steam was another welcome product which was purchased by nearby companies within the pharmaceutical and food industries, as well as by Uppsala University Hospital.
Uppsala municipality set up the Fyriskraft company, and subsequently Uppsala Energi, together with Vattenfall in order to build the first combined heat and power (CHP) plant, completed in 1973, so it was now possible to generate both electricity and district heating through incineration.
In residential districts with district heating networks, district heating became a condition for granting planning permission for new construction. Customers converting properties were persuaded to choose district heating thanks to competitive pricing.
In the late 1970s, Uppsala's district heating was 90 per cent based on oil. The company produced a plan to eliminate dependence on oil. This included the introduction of heat pumps in the early 1980s, which absorbed the waste heat in the city's waste water. The CHP plant was converted in stages, first to solid fuel in the form of coal and from 1989 to peat, which came from Härjedalen. This meant that, despite major growth, the dependence on oil to supply the city with district heating had fallen to about 5 per cent.
District cooling was launched in 1997 as a new and environmentally compatible product for large companies as an alternative to air conditioning.
Vattenfall acquired Uppsala Energi in the 2000, and in 2005 the waste incineration plant Block 5 was put into operation. In 2017/18, 60 per cent of the district heating production was based on waste incineration, with 75 per cent of the waste deriving from within a 100 km radius and some 25 per cent imported. The investment cost for Block 5 was one billion kronor, with the purification equipment alone accounting for a third.
In 2017 Vattenfall's district heating network in Uppsala was about 500 km long and accounted for about 90 per cent of the city's heat supply.
The work to become carbon neutral by 2030 includes replacing all fossil oil with bio-oil, as well as conversion from peat to wood pellets. The new CHP plant, Carpe Futurum, will be completed around 2020.
Read more about the new Carpe Futurum CHP plant
District heating outside Sweden
The acquisition of the German businesses HEW in Hamburg in 1999-2002 and Bewag in Berlin in 2005 gave Vattenfall control of enormous district heating systems. In 2016 the total piping network was 840 km long in Hamburg and 1,940 km long in Berlin. For a period in the early 2010s, Vattenfall was Europe's largest heat producer as, at that time, it also owned the plants in Poland, primarily Warsaw, and three plants in Denmark, in Copenhagen, Odense and on Jylland.
Hamburg City Council decided in October 2018 to use an option to buy in order to take over the city's district heating system during 2019.
Vattenfall's subsidiary in the Netherlands, Nuon, started producing district heating in the city of Almere around 1980. Today there are also district heating operations in Lelystad, Amsterdam, Arnhem, Nijmegen, in the southern part of Rotterdam as well as in Leiden.