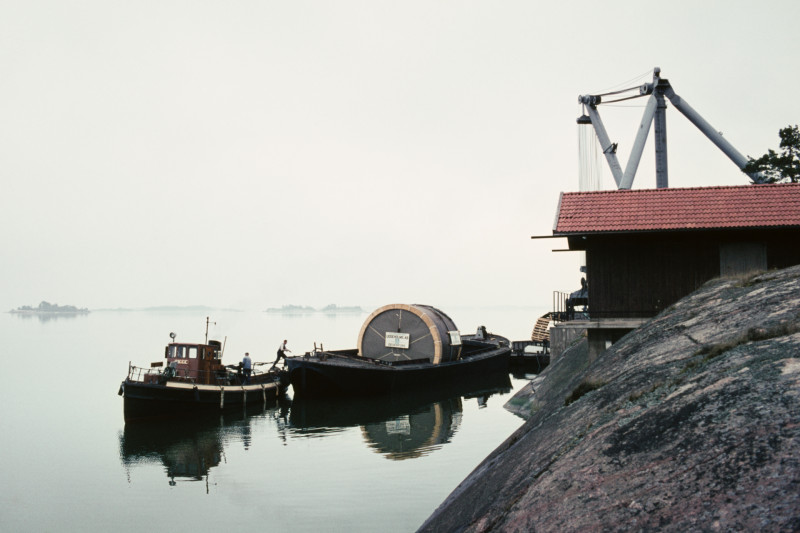 It has been called 'the world's only oil-fired nuclear power plant' and was considered a major failure by many people. But for decades, the Marviken power plant was an important additional electricity supplier in Sweden, while experiences from the construction project were very useful when building the twelve light water reactors.
Reactor building under constructionIn 1955, Atomkraftbyrå, the Vattenfall Nuclear Agency, initiated a project to build a heating plant named Adam in Västerås and a power plant named Eva in Tiveden. After a government decision in 1957, responsibility for developing nuclear technology was transferred to the semi-state company AB Atomenergi, which in collaboration with Vattenfall, planned to build 'R3/Adam' and 'R4/Eva' in Ågesta and Marviken respectively.
The work to build Marviken began in 1959. One year later, a complete blueprint was drawn up that was based on the Ågesta reactor. The building was called Marviken-T and was a pressurised water reactor using heavy water as its moderator. It was to generate a reactor output of 364 MW and an electrical output of 105 MW.
It soon became clear that heavy water technology had to be improved if it was to remain competitive. Nuclear technology was commercialised in the early 1960s and several foreign manufacturers sold turnkey light water reactors. These had a significantly lower cost for each generated kWh compared to Marviken-T. Atomenergi's solution was the so-called Boiling And SuperHeating Full scale study concept (BASHFUL) which was drawn up in 1962. It involved a boiling reactor that used nuclear superheat to improve efficiency. Overall, it was estimated that the cost of the plant could be reduced by up to 20%.
Critics argued however that this did not solve all the prevailing problems. Criticism of the new design came mainly from Vattenfall which no longer wanted to take any responsibility for the project. It was important from AB Atomenergi's perspective to be at the forefront of the technology because the goal was to establish a Swedish reactor industry. The company therefore took charge of the project and Vattenfall's obligations now only involved plant operations. ASEA drew up a design proposal called Marviken-K, which was approved in early 1963.
Construction work on Marviken started in 1964. The project received a lot of attention in the media and it was hoped to be a boost for the engineering industry. The foundry in Degerfors manufactured the reactor tank and the town was renamed 'Atomköping' by the media. The tank was then transported to Marviken on a narrow-gauge railway line and the Göta Canal.
By the middle of 1969, it was possible to charge the reactor with heavy water and fuel, but a range of problems were discovered during testing, with perhaps the most serious one being the excessive moisture content in the steam which could damage the turbine. At the same time, disappointing results from updated core calculations showed that the reactor was unstable during certain operating conditions.
Extensive design changes were required to solve the problems, which would delay start up until 1973 and lead to substantially lower profits. Atomenergi therefore decide to approach the government and propose closure of the project, which the government decided to do in May 1970.
Vattenfall were faced with a dilemma when the Marviken project was discontinued. What could be done with a completed power plant that could not be used? A decision was taken in 1971 to convert the plant for oil burning and an oil furnace was built adjacent to the existing turbine hall. The power plant was commissioned in 1974 and backed up normal generation supplies during power shortages. A series of full-scale experiments were carried out in the unused reactor in 1972, including breakdown simulations on heavy-duty pipework to verify reactor containment functionality.
With nuclear power undergoing expansion, the demand for standby power decreased, and the plant was used less and less. Between 2004 and 2009, Marviken was part of Svenska kraftnät's power reserve, but a decision was made to close it down in 2009. The plant was sold to a real estate company at the end of 2018 following extensive demolition and decontamination work.